Upcoming:
Vote! Your Vote is Your Voice / ¡Vote!  Su Voto es Su Voz, is an exhibit of art and historic artifacts with films and educational programs about historic and current voting rights issues, curated by Maria Gitin and Judy Stabile.  Exhibit open M-F, 8-5, January 23-April 23, 2020. 3rd floor, Santa Cruz County Building 701 Ocean Street, Santa Cruz, CA. Presented by Pajaro Valley Arts and Santa Cruz County Elections Department.
First Friday Reception for Vote!  February 7, 2020 5-8 PM
Thursday February 6, 2-3 PM Santa Cruz Public Library Downtown, "This Bright Light of Ours: Stories from the Voting Rights Fight" historic slide show & presentation by Maria Gitin sponsored by United Way of Santa Cruz County and Santa Cruz Public Libraries. With introduction by United Way CEO Keisha Frost Browder.
Continued Work to Get Out the Vote: 
Maria Gitin co-curated ¡Vote! Su Vote es Su Voz / Vote! Your Vote is Your Voice with Pajaro Valley Arts. Take a virtual tour: https://my.matterport.com/show/?m=f2PGHUVjamC
Preview a Maria Gitin Presentation:
Audiences have enjoyed more than 50 presentations by Maria Gitin since the publication of "This Bright Light of Ours" in 2014.  Universities, bookstores, museums, churches and temples, community centers, nonprofit organizations, government entities, public and private schools have hosted events. Maria's presentations include first hand testimony, music and photos from grassroots veterans of the 1965 civil rights movement. Available formats: keynote presentation & discussion, panels and interactive Skype and FaceTime. Watch a video of a typical presentation: Alabama Department of Archives & History  https://youtu.be/HoBzhPYGV0k
 Comments about Maria Gitin's Presentations:
Maria Gitin tells her own story on her own terms, giving readers (and listeners) an honest rendering of one woman's experience on the front lines of struggle against a deeply entrenched system of racial oppression. —
Clarence Mohr, Chair, History Department, University of South Alabama
Maria Gitin at Mobile History Museum Video
https://www.youtube.com/watch?v=8kRC4RDQnuk
You are a walking encyclopedia. The history you have gathered regarding this county is truly beyond reproach. – Carolyn Smith-Taylor, daughter of Wilcox County Freedom Fighters, Rev Frank and Mrs Etta Pearl Smith
Maria's passion, compassion, and love for the people of Wilcox County shines through in her lecture. I count it a privilege to meet someone who is so genuine and is part of living history. – DeeAnn, student University of South Alabama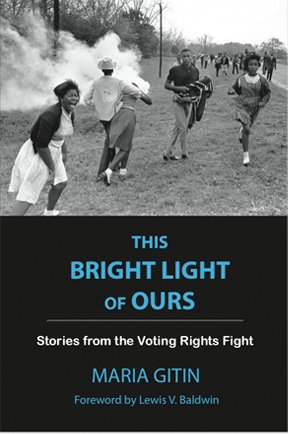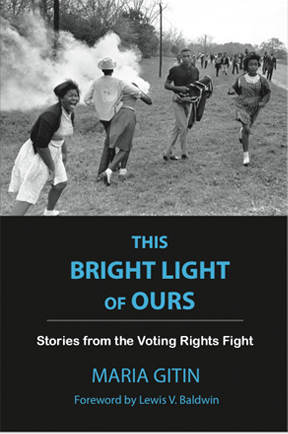 Speaking Engagements and Media Inquiries
Maria Gitin
Tel: 831.708.2560
Cel: 831.334.6176
E-mail:  msgitin@mariagitin.com