NEW VOTING RIGHTS EXHIBIT & PRESENTATIONS WITH PAJARO VALLEY ARTS  APRIL-MAY 2019
Vote! Your Vote is Your Voice / ¡Vote!  Su Voto es Su Voz, is an exhibit of art and historic artifacts with films and educational programs about historic and current voting rights issues, to run April 3-May 26, 2019.  The public is invited to the opening reception Sunday April 7th, 2-4 PM, Pajaro Valley Arts gallery 37 Sudden Street, Watsonville, CA.
Thursday April 25th 6-8 PM This Bright Light of Ours: Stories from the Voting Rights Fight – A special presentation
Watsonville Civic Building Community Room (4th Floor)
As part of Pajaro Valley Arts "Vote! Your Voice is Your Vote" exhibit, former Watsonville resident and nationally known author and speaker, civil rights veteran Maria Gitin will present historic images and stories from the grassroots activists of rural Alabama in the 1965 struggle for voting rights. Gitin worked in and will cover 
the less known but violent 
period of the Civil Rights Movement following the March to Montgomery and prior to President Johnson signing the Voting Rights Act of 1965. A freshman at San Francisco State College, Gitin felt called to action after witnessing violent state troopers attack peaceful voting rights demonstrators in Selma, Alabama. She joined a summer voter registration and education project along with 400 other college students. After training in Atlanta, from dignitaries including Martin Luther King Jr. himself, she was assigned to rural Wilcox County where the majority African American citizens were attacked, fired and arrested for simply attempting to register to vote. Gitin spent the summer working and walking with courageous local Black activists and sometimes running from the Ku Klux Klan. Her memoir of that summer, "This Bright Light of Ours: Stories from the Voting Rights Fight" was published by University of Alabama Press in 2014. Since that time, Gitin has presented more than fifty times including as keynote speaker for the US Army Presidio of Monterey, King County Washington, the National Park Service in Selma and Emory University. This is her first slide show presentation in Watsonville. 
More about Vote! Your Voice is Your Vote/ ¡Vote! Su Voto es Su Voz Exhibit and presentations 
Originally co-imagined with Bob Fitch, I'm honored to serve as both curator and presenter of this important exhibit.   Vote! seeks to educate, inspire, and develop greater interest in the nonpartisan democratic process. We draw on the involvement of current and former Watsonville residents who wein the Civil Rights Movement of the 1960's and Chicano Voting Rights action of the 1980'. We will share our experiences through art, educational panels, and film.  Selections of Bob Fitch photos and Maria Gitin's civil rights movement archives illustrate their experience as young voting rights workers in Alabama. Artifacts from Santa Cruz County Elections Clerk Gail Pellerin and Watsonville City Clerk Beatriz Vasquez Flores will be on display. A visual timeline developed by local artists guides visitors through voting rights history. Contemporary art work by regional artists highlights current events and responds to the question: What does the right to vote mean to me?
All events are free, bilingual and appropriate for students as well as adults.  Contributions to Pajaro Valley Arts free bilingual programs are always welcome. Sponsorship opportunities are available.
For interviews and information about the exhibit and educational programs:
Maria Gitin msgitin@mariagitin.com
www.pvaarts.org  or call the gallery: 831.722.3062
PVA Vote! Selected Events
Three voting rights films were shown in collaboration with Watsonville Film Festival.
 April 3 – May 26, 2019 Exhibit 
Pajaro Valley Arts Gallery
37 Sudden Street, Watsonville, CA 95076
PVA Gallery open Wednesday through Sunday
11:00am to 4:00pm.  More than 250 visitors since opening day!
Historic and contemporary art and artifacts depict the struggle for voting rights in the South and here in Watsonville. Featured photographs by Bob Fitch, Matt Herron and Kathryn Mayo are accompanied by artifacts Maria Gitin's experience as a teenage civil rights worker in Alabama. Art responding to the question: What do voting rights mean to me? Is on display and available for purchase.
Sunday April 14th 2-3:30 
Maria Gitin Curator's Talk- 40+ visitors attended the Guided Tour with Q & A in the Gallery
Maria Gitin and Bob Fitch envisioned this exhibit prior to Fitch's 2016 death. Gitin will discuss how this exhibit developed in tandem with Pajaro Valley Arts as well her own history as "one of the white kids" who came South when Dr. King called on college students to assist with voter registration in 1965. This will be an informal event with opportunities to ask questions and make comments.
Thursday April 25th 6-8 PM This Bright Light of Ours: Stories from the Voting Rights Fight
Civil rights veteran Maria Gitin shares historic images and stories from grassroots workers in the nonviolent army that risked their lives for voting rights. NAACP Members and regional Civil Rights Veterans will be recognized. Discussion, Q &A., Book signing.
Signed copies of "This Bright Light of Ours: Stories from the Voting Rights Fight" will be available for sale with proceeds to Pajaro Valley Arts.
Saturday May 18th 2-4 PM   Landmark Voting Rights Victory: Gomez V Watsonville
Watsonville Civic Center Community Room 4thFloor
Moderator: Samuel Torres Jr, former Santa Cruz County Counsel
Panelists: Paule Cruz Takash, Anthropologist and Watsonville Chronicler; Daniel Dodge, MALDEF paralegal on Gomez v Watsonvilleand former Mayor Karina Cervantez, former Mayor and UCSC Doctoral Candidate
Participant-witnesses and historians detail how the Gomez v Watsonville case came about, how it was fought and won. Panelists will discuss their personal experiences and historic perspectives including contemporary impact
RECENT MENTIONS
Journalist Alexandra Marvar explores conflicting views of notorious Wilcox County Sheriff "Lummie" Jenkins in the context of  Southern sheriffs during the Civil Rights Movement. Civil rights workers Maria Gitin and Robert Powell were interviewed for this character study. Both were just teenagers when they were arrested by Jenkins. Powell and other Wilcox resident activists were repeatedly harassed and arrested.
Continued Work to Get Out the Vote: 
Maria Gitin is co-curating ¡Vote! Su Vote es Su Voz / Vote! Your Vote is Your Voice with Pajaro Valley Arts. Watch for this exciting exhibit, event and action series coming April 3-May 26, 2019. https://pvarts.org/event/vote-your-voice-is-your-vote-su-voto-es-su-voz/
RECENT PRESENTATIONS
October 17, 2018 "Lessons from 50 years of Change",  Candler School of Theology at Emory University, Laney Legacy Program in Moral Leadership Activists Panel. 7 PM Canon Chapel at Chandler on Emory Campus. 
Civil Rights Veterans Maria Gitin and Johnny Parham engaged in a lively dialog with younger activists Adelina Nicholls and Ash-Lee Woodard Henderson to discuss lessons learned. Also on October 17, Maria Gitin and Robert Powell presented their personal stories to Dr Robert Franklin's graduate seminar, accompanied by historic slides. View the panel video: https://vimeo.com/305559812
January 19, 2017 
Presidio of Monterey Defense Language Institute
Martin Luther King Jr. Observance, Maria Gitin was the featured Guest Speaker for 400 members of the military at the Defense Language Institute.
February 23, 2017 
Middlebury Institute of International Studies at Monterey
Maria Gitin read, and told stories, followed by a book signing. Open to students and general public https://www.facebook.com/events/130913084077155/
Preview a Maria Gitin Presentation:
Audiences have enjoyed more than 50 presentations by Maria Gitin since the publication of "This Bright Light of Ours" in 2014.  Universities, bookstores, museums, churches and temples, community centers, nonprofit organizations, government entities, public and private schools have hosted events. Maria's presentations include first hand testimony, music and photos from grassroots veterans of the 1965 civil rights movement. Available formats: keynote presentation & discussion, panels and interactive Skype and FaceTime. Watch a video of a typical presentation: Alabama Department of Archives & History  https://youtu.be/HoBzhPYGV0k
 Comments about Maria Gitin's Presentations:
Maria Gitin tells her own story on her own terms, giving readers (and listeners) an honest rendering of one woman's experience on the front lines of struggle against a deeply entrenched system of racial oppression. —
Clarence Mohr, Chair, History Department, University of South Alabama
Maria Gitin at Mobile History Museum 2014 Video
https://www.youtube.com/watch?v=8kRC4RDQnuk
You are a walking encyclopedia. The history you have gathered regarding this county is truly beyond reproach. – Carolyn Smith-Taylor, daughter of Wilcox County Freedom Fighters, Rev Frank and Mrs Etta Pearl Smith
Maria's passion, compassion, and love for the people of Wilcox County shines through in her lecture. I count it a privilege to meet someone who is so genuine and is part of living history. – DeeAnn, student University of South Alabama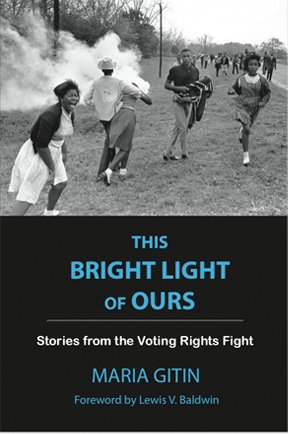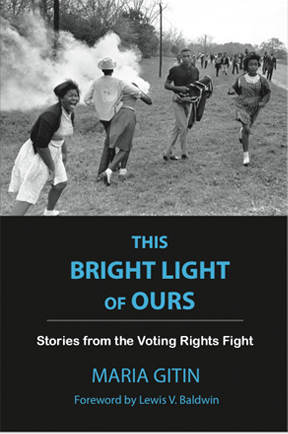 Speaking Engagements and Media Inquiries
Maria Gitin
Tel: 831.708.2560
Cel: 831.334.6176
E-mail:  msgitin@mariagitin.com