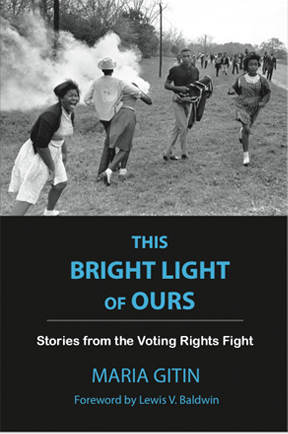 THIS BRIGHT LIGHT OF OURS
ISBN: 978-0-8173-1817-8  |eISBN: 978-0-8173-8738-9
360 pp., 23 illustrations
February 11, 2014
Order the hardbound or e-book online:
Amazon
Barnes & Noble
Available at and from independent bookstores:
https://www.indiebound.org/book/9780817318178
A limited number of signed, first edition hardcover copies are available to be dedicated to the person of your choice. Mail your check for $40 with dedication and mailing instructions to:
Maria Gitin
P.O. Box 216
Capitola, CA 95010
Bookstore, Library, Education and Pay-by-Check Orders
Chicago Distribution Center
Voice: 773.702.7010
Fax: 800.621.8476

To contact the publisher:
University of Alabama Press
About the Press
The University of Alabama Press is the scholarly publishing arm of the University of Alabama and an agent in the advancement of learning and the dissemination of scholarship. The Modern South series examines the history and society of the American South since the Depression Era.